Products
VNA Racking System / VNA Racking System - The best choice for heavy products, high storage density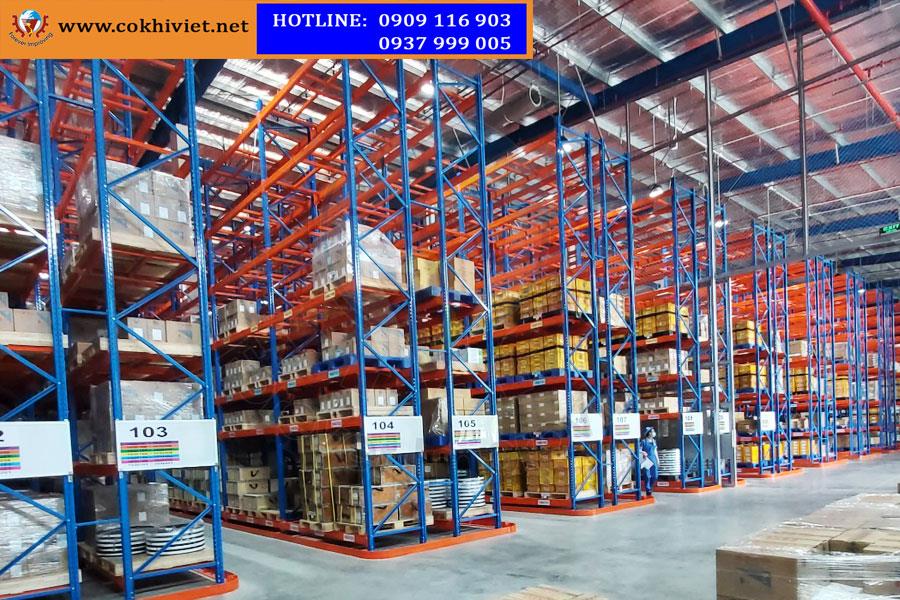 VNA Racking System - The best choice for heavy loading product, high storage density
Heavy loads which need to be properly stored is always a difficult problem for warehouse and factory owners because it is necessary to have good load-bearing warehouse systems , ensure safety according to ISO standards, long-term use, no degradation and collapse. Besides, renting or expanding warehouses and factories also costs a lot if you do not know how to optimize the entire warehouse area. In the market, there are many types of racks, so let's take some time to read this article and know what is the best solution for your warehouse!
VNA racking system is used for warehouses with small area but need to store large quantities of goods. The advantage of this rack is extremely narrow aisle, just enough space for a forklift, the height can be up to 16m or more depending on the height of the factory, warehouse. However, this rack can only use one specialized forklift line, and the surface must be pre-treated, with guide rails, shaping the direction of the forklift.
Very Narrow Aisle Racks - Used for small and medium warehouses
Some features of VNA system - racks with narrow aisles:
Narrowing the walkways, increasing the area of ​​using warehouse
Racking height can be up to 16m
Increasing the storage area of ​​goods by 50%
Using specialized forklifts, vehicles for narrow aisles
Well-treated surface with guide rail for forklifts
Choosing goods reaches 100%
Therefore, VNA racking systems are the most suitable racks for warehouses, factories with small and medium area.
Besides, in addition to the features of the load, warehouse area, you need to pay attention to the demand for use, product shape, if the product has one size, needs to store large numbers, can be loaded and unloaded according to rules: FIFO (First in - First out) or FILO (First in - Last out), you should choose Drive-in racking system, Semi-automatic radio shuttle racking system.
Investing in a racking system is extremely important. Most of the racks are assembled on high, so it is necessary to thoroughly understand the reputable producing and installing unit to avoid incurred risks for dispatchers in the warehouse.
Some typical projects that Viet Mechanical have completed
Viet Mechanical is a experienced warehouse manufacturer, always leading and pioneering in providing efficient and economical storage solutions. We have a factory of more than 11,000 m2, ensuring each stage of production in accordance with ISO quality, automatic production process, which is the most reliable partner of many large domestic and foreign enterprises such as Vinamilk, Coats, Zuellig Pharma, Baker Hughes, VAECO, Binh Minh Plastic, SamSung, Esquel, CocaCola, TH True Milk, Suzuki, Lotte, ... Viet Mechanical has been working closely with customers to come to further success.
To find out which type of racks is suitable for your warehouse, workshop, logistic warehouse, please contact us via:
Other Products